AAround the Buenos Aires Obelisk, revelers in Argentinian football shirts, hats, wigs and makeup danced late into the night to drums and sound systems of cumbia and reggaeton.
The young people climbed the fences, lampposts and the giant BA panel at the foot of the monument. It was an ecstatic tribute to a World Cup victory that this country has been waiting for since this football-mad nation last lifted the trophy in 1986.
A giant football shirt hung on the facade of the Teatro Colón, on central Avenida 9 de Julio. Parents have asked friends to take photos of babies in tiny Messi shirts to mark the momentous occasion when their children – too young to remember – grow up.
More than a million people were on the streets of Buenos Aires to celebrate the victory, according to estimates by Argentine authorities.
It was a scene that played out across the city, with impromptu parties even breaking out at bus stops as fans returning to the suburbs waited for buses they were too euphoric to realize they weren't. were not driving.
"Coming to Argentina during the World Cup was the best decision I've made in my life! said Tomás Kuklis, who had returned from New York so he could watch the World Cup with his family.
On Monday, the Argentinians were cloudy-eyed but still buoyed by victory. The national soccer team is due to arrive at Ministro Pistarini Airport in Buenos Aires around 2 a.m. Tuesday morning, arriving on a special Aerolíneas Argentinas flight with the team's image on the side. They can expect a hero's welcome, with local media posting links to flight tracking sites so fans can follow their return in real time.
It is expected that such large crowds will flock to the airport to take them home that buses that would normally travel along the freeway to central Buenos Aires would be diverted. Many social media users called on President Alberto Fernández to declare December 20 a public holiday, with the "Alberto Decree" trending on Twitter following the team's victory.
"Always together, always united. WE ARE WORLD CHAMPIONS! There are no more words. THANK YOU, Argentina," Fernández tweeted after the game.
For many Argentines, Lionel Messi leading his side to victory sealed his place alongside Maradona in the pantheon of footballing gods. "Messi stormed through history and won devotion, gratitude and eternity," headlined La Nación newspaper. The team captain, who is 35, said this World Cup would be his last, but on Sunday, with the World Cup trophy cradled in his arm, he told reporters he would like to continue play in the national team at the moment. to be.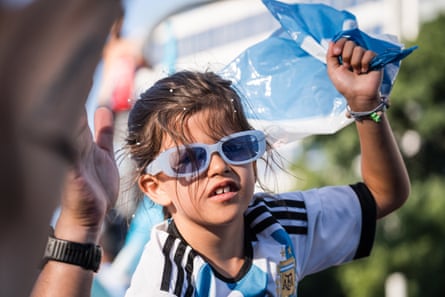 Qatar's Emir Sheikh Tamim bin Hamad al Thani presented Messi with a traditional tail dress before lifting the cut. The gesture was interpreted as a big gesture of respect from both sides.
Amid the uproar of car horns, music and shouting, several fans wore t-shirts, caps and signs with their new favorite Messi quote:What are you looking silly? Go ahead silly!". (What are you looking at, moron? Lose yourself, moron!) The phrase is taken from the tournament's infamous quarter-final match with the Netherlands: as he walked off the pitch, Messi gave a interview in the tunnel when he caught the Dutch striker Wout Weghorst winked at him and made the commentary live on air. Her no-nonsense attitude went viral instantly.
Roars of support poured in from across Latin America, with football fans across the region delighted that the trophy went, if not to them, then to their regional neighbours. "The victory of Argentina is the victory of the Great Fatherland", tweeted Bolivian President Luis Arce, using the phrase that describes the ideal of a shared regional community of Spanish-speaking Americans.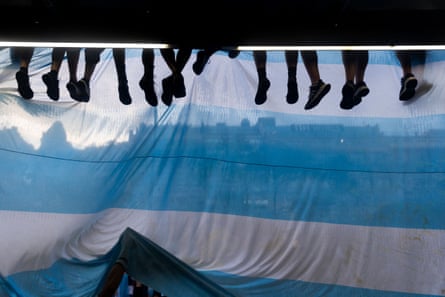 "Football is so beautiful" added Chilean President Gabriel Boric. "A giant hug to our Argentinian brothers. Their joy crosses [Andean] Cordillera.
In France, which lost to Argentina by the narrowest margin, police reported more than 200 arrests. But in Buenos Aires, the municipal police had recorded only 17 arrests on Monday morning, according to local media.
In the streets of San Telmo, a truck passed, full of men containing several liters of Quilmes beer. A man in a blue and white jumpsuit banged the roof of the car in anger at the slight perception, looking for a moment like he might start something.
But then the voices of revelers all around swelled like a tide. "Come on man – be happy," they said. "We won!"
Source : BBN NEWS